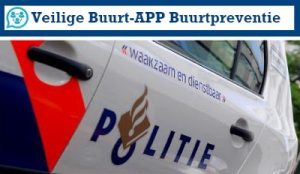 Als politie Bommelerwaard willen wij erg graag intensiever samenwerken met u als burger. Veelal zijn wij afhankelijk voor onze heterdaad aanhoudingen van uw meldingen.
Om onze heterdaadkracht te vergroten zouden wij graag met u willen samenwerken met de "veilige buurt app". Deze app is een aanvulling op alle bestaande systemen en vervangt Burgernet of uw eigen WABP-groepen (WhatsApp) niet.
Nadat u bij een verdachte situatie, inbraak heterdaad of andere spoedmeldingen 112 heeft gebeld kunt u via de app de rest van de wijk alarmeren. De politie Bommelerwaard kijkt ook mee in de app en op deze manier kunnen wij beter met u en de rest van de wijk samenwerken om de verdachte staande te houden of aan te houden.
Aanrijdend kunnen wij de bevindingen van de wijk volgen en daarop anticiperen.
(LET OP!! Wij reageren alleen op de meldingen die wij via de 112-centrale doorkrijgen. Wij reageren niet op meldingen uit de app zonder dat 112 gebeld is en de centralist ons de melding uitgeeft!)
In de bijlagen treft u de complete uitleg van de veilige buurt app aan. Deze kunt u rustig bekijken en doornemen. Tevens hebben we de aanmeldgroepen en de spelregels in de bijlagen staan zodat u die rustig na kunt lezen.
Op de facebookpagina van de politie Bommelerwaard zijn nog diverse introductiefilms te vinden.
U vindt de app in de play-store van uw telefoon. Graag zien wij de samenwerking met u tegemoet.