Zwemmen in rivieren en kanalen
In de zomer zoeken veel mensen verkoeling en ontspanning in de grote rivieren en kanalen. Dit kan gevaarlijk zijn. Ondanks een zwemverbod in vaargeulen en bij bruggen, sluizen en havens, zijn er jaarlijks gewonden en doden te betreuren. Daarom wijst Rijkswaterstaat op de risico's.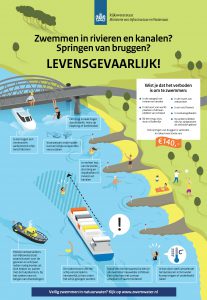 Boete van 140 euro
Zwemmen is op veel plaatsen niet alleen gevaarlijk, maar ook verboden. Hetzelfde geldt voor springen van bruggen. Je riskeert een boete van 140 euro als je zwemt:
• in de vaarweg van rivieren
• in kanalen
• in de buurt van wachtplaatsen of afmeerplekken voor schepen
• in de buurt van een brug, sluis, stuw of ballenlijn
• in de routes van veerponten
• in en rond havens
• in snelvaargebieden
• op plekken die specifiek aangewezen zijn als verboden gebied
Wat zijn de gevaren van zwemmen in rivieren en kanalen?
• Zwemmers zijn voor opvarenden van een binnenvaartschip nauwelijks zichtbaar.
• Een groot schip kan niet direct vaart minderen of op het laatste moment uitwijken.
• Zwemmers worden snel meegezogen door de sterke onderstroom van een passerend schip.
• Zwemmers zijn niet opgewassen tegen de sterke stroming van rivieren, kanalen en draaikolken.
• Zwemmers kunnen door de sterk wisselende temperatuur van het rivierwater kramp krijgen en onderkoeld raken.
• Het is ook bijzonder gevaarlijk om van bruggen af te springen. Door het troebele water is de diepte niet in te schatten en zijn voorwerpen op de bodem vaak niet te zien.
In de filmpjes Levensgevaarlijk: zwemmen in rivieren en kanalen en Levensgevaarlijk: springen van bruggen wijzen we ook op de gevaren die we hierboven beschrijven.
Toch veilig zwemmen in natuurwater?
Dat kan. Ga voor veilig zwemmen in natuurwater naar een officiële zwemlocatie. Die vindt u op Zwemwater.nl